Comments in referance to Monaro Marine converting owner's boat from diesel to Mercury 300 HP Verado outboard and other upgrades:
Thanks for doing such a great job of installing the new outboard etc. It's like a new boat. Everything went perfectly returning to Snug Cove; quiet, smooth running, and lots of power. The boat seems really well balanced, and I'm looking forward to more adventures.
Laurence J. Turner , Monaro 24 Owner

Your Monaro 298 is meeting and/or exceeding our expectations. She's a quality built vessel that travels very well through a variety of sea conditions with great visibility and reasonable fuel consumption. Everybody likes the layout and I have yet to meet anyone who didn't say something good about Monaro boats!!
Lea Bancroft, Monaro 298 Owner

I have worked on a lot of boats and this is one of the nicest ones to work on, well thought out!
Jeff Alexander, Monaro 27 Owner

I took the boat out yesterday and she ran great! She felt very secure in the 3-4 foot chop we had in the straight of Georgia. I now know first hand why the Monaro 298 has such great reviews.
Daniel R. , Monaro 298 Owner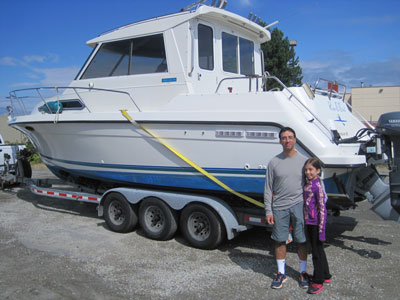 ---
We want to express our appreciation for all your time, patience, and expertise in selling our Monaro. Your boat served us well, meeting our accommodating needs and exceptional performance in all kinds of waters and seas - San Juan Islands, Gulf Islands, West side of Vancouver Island, Alaska, Queen Charlotte Islands, etc. We have many great boating experiences/memories of a lifetime of our Monaro. May the new captain enjoy it as much as we did.
Terry and Sheila Smith, former Monaro 27 Owners

---
I drive rescue boats for RCM-SAR. Knowing how to handle heavy seas and high winds, the Monaro is the only boat, of many I've owned, that I've taken out in storm conditions. It dances through the chop! If I crash it in a deep trough, it grunts, and then it gets right back to business.
Ned Baess, Monaro 24 Owner

---
With our third Monaro (we keep on upsizing) we continue to enjoy the quality, fuel efficiency, toughness, and smooth ride that typifies a Monaro. Would we buy another; absolutely.
Bob and Gail Affleck, Monaro 298 Owners

---
Our 27ft. SE Custom Hardtop (one of the early models), was completed in Feb 1995 and shipped across country to us, in early spring. After 19 years of use we are still very satisfied with the performance and comfort of our boat.
Designed for both fishing and cruising, we have used it more for the latter, but it is also a very efficient and comfortable fishing boat. The boating with our Monaro 27, has been on the Bay of Quinte. Lake Ontario, the Trent and Rideau Canal systems and in the 1000 Islands area of the St. Lawrence River.
Our Monaro 27 gives top performance, with excellent turning, sea keeping and manoeuvering ability. Whatever the weather we have never felt uncomfortable in our Monaro. We especially enjoy the hardtop as shelter in cold or wet weather and for shade on hot sunny days. It has lots of head room and good viewing out of the large sliding glass windows on each side. Under the hardtop area is a very well designed helm station with excellent sea vision and a well laid out instrument panel. The interior cabin has a comfortable well designed layout (galley, head and sleeping accommodations), with lots of storage area and ventilation.
Carol and Leroy McBrien, former Monaro 27 Owners

---
After owning several boats we purposefully selected a Monaro 255 RXL as our boat of choice. We avoided some features such as a fridge or a stove, but with our need for travel and in anticipation of many weather conditions, Monaro accommodated well our specific needs for water, fuel, heat and electronics among other features such as a requisite holding tank. Dan Parker's counsel and concern for quality was invaluable.
We just completed our sixth season of boating with our Monaro, and it has been everything we wanted it to be, through six hundred hours of use; something for everyone from picnics and warm skies, to hundreds of miles of wild B.C. central coast, fair weather and foul. Throughout our travels, our guests and we have felt comfortable, safe and secure.
The boat is an "eye-catcher", but beneath her classic lines she is built to be strong and fuel efficient. She can be tailored when necessary, and this has allowed us to extend our travels efficiently to the West Coast of Vancouver Island. Some features such as the remote power windless make the boat extremely easy to operate alone when necessary. She handles well, comes quickly and easily to plane, and has great visibility.
We love the RXL cabin layout, and instrumentation including the radar, a GPS-chart-plotter, and gauges are well laid out and add to our security. Although we prefer sunshine and gentle seas, our trials have included unplanned travel in fog, strong winds, and high seas. With appropriate caution and care our boat performed well and carried us to safe harbor without incident.
We are proud to own a Monaro that has been custom tailored to our needs. It is truly "our" boat and she serves us extremely well.
Dan & Deb Rollins, Monaro 255 Owners

---
We have owned four Monaro's as our family grew and as 'two-footitis' took hold. We were originally attracted to Monaro's by their quality craftsmanship, safe design and robust sea-keeping abilities. We recently tried one other brand of boat and quickly realized our mistake, becoming even more committed to our Monaro. Monaro's have been the centerpiece of our family vacations for over twenty years and whether fishing, tubing, cruising, and day-tripping or extended cruising, our Monaro's have out-performed our expectations. We have been caught in severe weather conditions and have never felt unsafe. Our kids have grown up on Monaro's and have never had a close call of any description. We have complete confidence in our Monaro!
Don Matthew, former owner of four Monaros, 21 to 298

---
My wife and I have owned two Monaros over the last several years; a 24 inboard gas and a 27 inboard diesel. We have been extremely pleased with the quality of construction and the comfortable ride in some very rough west coast conditions, where we have explored extensively with our two children and dog. There has been a great deal of thought put into the Monaro designs over the years, with many features that cannot be found on any other boat, such as the 9 HP inboard diesel kicker we had on the 27.
Aside from the high quality and practical design of the boats, it is a pleasure to know and deal with the Parkers, the owners of this family-run business. The boats bring a high level of pride-of-ownership and our next boat will also be a Monaro.
John Mawdsley and Lisa Brattland, former Monaro 24 and 27 Owners

---
We are loving our 1996 27' Monaro for its size, comfort and speed on the water. It differs from our 3 previously owned boats in many, positive ways. We can travel at 23 knots using only 5 gallons of diesel an hour and the ride is smooth. My wife has short legs and yet on this Monaro she can now easily step onto the dock to tie up the lines. The bow thruster makes it easy for the Captain to dock the boat. The cockpit allows 4 adults to sit comfortably with all having great views through the windows. The salon is designed well in that 5 adults can eat at the table and be totally out of the galley while the cook is busy preparing the meal. The 2 sleeping areas are comfortable and easy to get in and out of.
The boat attracts lots of attention at the dock because of its appeal. We know this will be our last boat because we have found the perfect one for us!
Leah and Ray Bradford, former Monaro 27 Owners
---
I am the proud owner of my second Monaro. As my family has grown I have been fortunate to graduate from a 21 foot to the 24 foot Monaro, and later stretched to a 255. We have used our boat for water skiing, wake boarding and other water sports. At the same it has and is a great weekend cruiser.
It is a boat that we are able to enjoy because of its superior construction, quality of finish and function. Our family has always felt safe and confident on the water in our Monaro. We have been on the water all our lives and owning a boat that meets the ever changing water conditions in a safe and comfortable manner adds to our boating enjoyment. We are happy and proud to be part of the Monaro family.
Malcolm Hunter, Monaro 257 Owner & two previous Monaros
---
We love our boat. We have surfed down waves in heavy following seas; we have manoeuvred our way up, down, around and even through large waves, yet we have not experienced that bone jarring ride that accompanies so many other types of boats. The boat easily takes more that I would care to be out in, with a ride we could only describe as "soft ". On top of that, Monaro's design makes excellent use of space and provides an unbelievably practical boat. All this in a nice looking package that we have had a lot of compliments about.
Mike and Maureen Morrison, Monaro 24 Owners

---
We took the boat to Uclulet last season for a week of fishing. We are really impressed with the handling and the fuel economy with the 4.3l Volvo. The best memory of the trip was heading to and from the fishing grounds miles offshore. We cruised by larger boats than ours and felt safe doing so. One morning heading out in the fog there was a boat creeping up on us. The best part is that it was another Monaro, a 24 foot. That Monaro was the only boat that passed us that week. I am looking forward to many more trips and memories with our Monaro.
Brad Nowicki, Monaro 21 Owner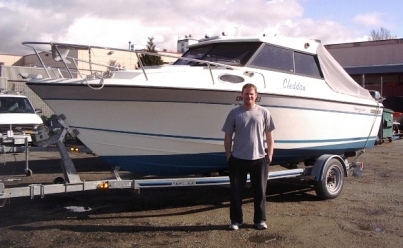 ---
We are proud owners of a Monaro 298, the only 298 in the Edmonton, Alberta area. Our boating destination is the west coast of Canada including the Alaska Panhandle with Kitimat as home port.
Our decision to choose a Monaro was finalized after meeting with Mr. Dan Parker. Attention to detail, craftsmanship (second to none), integrity, customer support, quality of materials – the phrase "Continual Pursuit of Perfection" applies to the Monaro.
Returning to Kitimat after a two week trip, we encountered strong inflow winds along with outflow spring tides (20 feet). The Douglas Channel decreases in depth from 600 to 60 feet where the Kitimat Marina is located. These conditions formed significant standing waves – no less than 2 meters in height and 13 meters crest to crest. At a speed of 22 knots, the hull started to perform - delivering a smooth, comfortable stable ride, without a single drop of spray on the top side. At that moment we knew our choice of the Monaro was correct.
As we neared the Marina, several boats attempted to challenge the conditions. The boats varied in lengths between 20 feet to 26 feet. The shortest boat did not venture past the breakwater with the largest boat almost disappearing between wave crests before quickly returning to port to wait for conditions to improve.
The Monaro reputation is entrenched in the mindset of the boating community. Mariners whom we encountered expressed their awareness of the superior attributes of the Monaro.
Murray and Doreen Pyrch, Monaro 298 Owners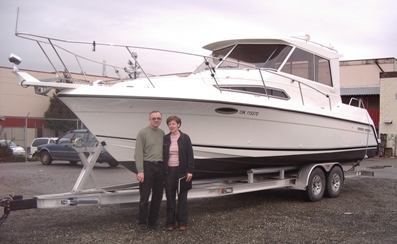 ---
We discovered Monaro Marine while searching the Internet for some ideas on a new boat .We spend a great deal time on the waters of Lake Superior, a large beautiful but sometimes cool body of water, so we needed a boat that would afford us some comfort while traveling or at anchor. Safety and travel range were also high on our list of requirements. During a visit to Vancouver Island, we made a side trip to Richmond and Monaro Marine, where we met Dan Parker. We got to tour his operation and watch the craftsmanship and pride that goes into every Monaro boat. He explained the features of a Monaro; trailerable, fast solid ride, headroom, storage, efficient, all the things we were looking for. We were sold. A few months later our Monaro 27HT was started and upon completion was shown at the Vancouver Boat Show.
We have enjoyed many days and nights abroad our 27HT and thanks to the Alaskan bulkhead and furnace we were comfortable in some sub 0'C spring condition. With the storage for supplies and sleeping capacity, a couple could stay on broad for weeks at a time or load it up on the trailer for the weekend and try a new port on Great Lakes without spending time traveling hundreds of km's by water. When we get there, our comfortable accommodations are waiting for us.
Lots of fishing on the Great Lakes in some not so favourable sea conditions; 1 to 2 meters and still felt safe and comfortable. During one of our trips on Lake Superior we encountered conditions; 3+ meters,we actually flew the hull ( not recommended by Dan but!!) and re-entered as smooth as a hot knife in butter, one of the few times we had to greatly reduce our speed . Our passengers were very impressed with the ride. They said it felt like they were in a larger vessel, the way our 27 handle the sea.
The most memorable event was an assistance call on Lake Superior late one evening. A friend's boat that had engine trouble. Wave condition were 3 to 4 Meters and building. We had to travel about 40 km's to locate the boat and then towed their 22 footer 20 km's into the safety of a their bay and then another 15km's to our anchorage. It was a long night but as one of my mates abroad our 27 stated, they felt we were safe as could be and the boat handled the sea well.
After hundreds of hours and more km's than I can calculate, a smile comes across my face every time we board our 27 to set out on another adventure. It still impresses us and others.
Norm and Candy Park, Monaro 27 Owners
---
Last year my wife and I ran our Monaro 27 down the west coast of Vancouver Island. This is an exposed and rugged coastline and an area where you need a good, reliable boat. Few services are available and there is little scope for problems while transiting open passages. Quickly changing conditions can subject a boat to brutal testing of its integrity. Our boat is getting on in years, now, but its condition is outstanding. We knew the boat was up to the trip, even in the event of some rough passages. With careful weather watching, timing, and the right boat, we had one of our most enjoyable cruising vacations in the 18 years of owning this fine Monaro.
Peter Vassilopoulos, former Monaro 21 & 27 Owner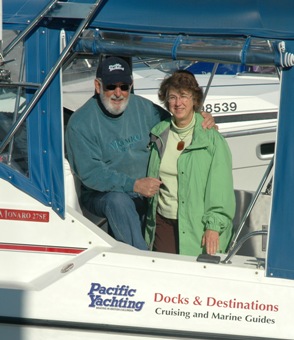 ---
One of the basic requirements I had asked for was reliability; as I did not want to worry about having to be repairing anything on the boat, or doing any mechanical repairs; but wanted to be able to step aboard, start the motor, and go boating and fishing. I can tell you that after 25 years, you can't find a loose screw, bolt, cabinet drawer, or any other part of the boat that needs attention. The meticulous care that everyone in the shop exercised in building my boat keeps me glad of my choice of boat and builder. I have not abused my boat, but I have used her every year – in both calm waters and rough waters – and she is still completely intact.
I have used the boat to travel back and forth – about 100 miles each way -between Vancouver and Cortez Island where we have a summer home – traveling this distance easily in under 4 hours and even in sloppy waters – waves to 2' in height often passing other larger boats that were pounding their way along the coast. This is truly a compliment to the design of the deep V hull, combined with the sharp fore-foot that gives the boat such a soft ride. I know that I have probably been out in rough water when I should have been tied to the dock riding in 6-7' waves is never much fun but I have never been worried about the sea-worthiness of the boat.
We have used the boat for both fishing and cruising – having stayed out for up to a week at a time. Your ability to customize the boat and still maintain perfect balance both side to side and fore and aft made choosing the Monaro the right decision. The special amenities you helped us build into the boat – the galley package, stove, fridge, sink and fresh water availability, rod stowage, fish boxes and bait tank, V-berth and marine head, the catalytic heater, anchor power winch (my back thanks you also), the drop curtain to enclose the cabin, and the special color combinations my wife wanted, all make this boat everything we wanted.
Rod & Karen Lee, Monaro 24 Owners

---
I've owned so many boats over the past 25 years but I have never enjoyed one more than the 27 Monaro I purchased a few years ago. Great lines, comfortable and fast, especially in rough water. The boat is very well equipped for a boat under 30 feet and has one of the most comfortable aft cabins for its size. I can't say enough about the power train and bow thruster. There is a great degree of comfort in having a local builder to ask advice and make improvements as the years pass.
Ted Leake, former Monaro 27 Owner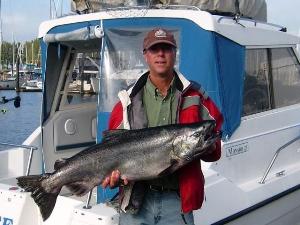 ---
I bought my Monaro in 1993 and could not be more pleased. It has been reliable, easy to handle, and I get many people asking me what type of boat it is when I am at the dock on our local lake. It has towed logs, children on tubes, water skiers, and broken down boats. It has required little maintenance, and always looks tip top when I put it in the water in the spring.
I am extremely happy with my Monaro. Also, I cannot say enough about Dan Parker, and his commitment to Monaro owners, and his support in creating a network that we can all fall back on, trade stories, or seek information. It is a privilege to recommend Monaro, I am proud to be an owner of one.
Terry Waghorn, Monaro 21 Owner
---
It began about 24 years ago when I was looking for a new boat. I wanted a boat that was fast, safe, comfortable, and that I could trailer. I lived in Manitoba and wanted it for the West Coast. I checked out boats from Ontario to Washington. I checked out builders too to see if they would change a few things the way I wanted them but they all said No! I found Dan Parker and the Monaro Boat at a Vancouver Boat Show. I loved the looks of his Boat and the fun began.
Watching the boat being build was great, and you can see the big beams going in that add super strength. ( I admit I have been over too many large logs and up on top of rocks too in 20 years without any more serious problems than scarred gelcoat, that Monaro fixed). The boat was more than anything I expected. Safety handhold's on tight, you can swing on the bow rails without any problem, and secure tow eyes (custom) on the stern for pulling disabled boats in. The boat is fast, has a soft ride in rough water and comfortable to spend days at a time in.
I have had it in the open Ocean off the West Coast in 20 foot rolling seas (my wife was scared skinny) and storms with 8 foot seas coming at us. I have been in zero, zero fog and used it in the dark of night. I have always felt safe and comfortable.
I have explored all the West Coast over 23 years with this boat. I have gone from Vancouver to Campbell River in 3 ½ hours and used less fuel than the cost of the Ferry Service alone to haul it from Vancouver to Nanaimo never mind the cost and time of the additional road miles to get to Campbell River. I have enjoyed using it on smaller fresh water lakes too.
My only regret is that I didn't buy the 24 foot first, and then should have bought his 27 foot a few years ago.
They are recognized on the West Coast as the Cadillac of boats and no two are alike. Whenever you cruise into a Marina boat people know Monaro!
Thomas H King, Monaro 21 Owner
---
I purchased my 24 foot Monaro from Dan Parker in 1995 and had it shipped to Yellowknife, NWT to cruise on the waters of Great Slave Lake. Considered by many as an inland sea, Great Slave Lake is the world's 7th largest fresh water lake and I logged over 14,000 miles. My Monaro has also spent 3 years cruising on Georgian Bay, of Lake Huron, out of Owen Sound, Ontario. Both of these bodies of water are well known for extreme weather and rough water conditions. During the past 16 years of operation and 16,000 miles of cruising, my Monaro has never failed to return me safely to my home port.
The Barbara Ann is powered by a Volvo, 4 cylinder duo-prop diesel engine, burns only 3 gallons of fuel per hour and will cruise all day at 30 mph.
As a former Coast Guard Auxiliary member, licensed freshwater angling guide and sport-fishing outfitter having an extremely comfortable, dependable and sea-worthy boat was necessary. After researching the many boat builders, Monaro was the clear and obvious choice.
When you own a Monaro you don't just own a boat, you become part of the Monaro Family.
Gary Magee, former Monaro 24 Owner
---
In 1994, my wife and I realized that our boys were coming to the age when they would not want to spend as much time boating with their parents so the decision was made to sell our 41 footer and buy a cottage at Pender Harbour. After carefully shopping the boating market from the point of view of a very experienced boater, in 1995, I concluded that the Monaro 24 was the perfect match for a cottage owner. This was because we required a fast, well designed hull which would transport us safely, comfortably and economically where ever we wished to go on the coast.
With a little experience a BC Coast boater soon realizes that weather conditions can change quickly. A serious strong boat with an excellent hull could be required in an instant. Further I did not want to invest money in glitz but rather into basic quality that would stand the test of time. In my view the Monaro brand met my exact requirements and consequently I purchased a 24 in the spring of 1995.
Over the last 15 years I have never regretted my decision. Regardless of the sea conditions faced we were always safely and comfortably transported with the Monaro soft ride with it's beautifully designed narrow entry bow. The bonus associated with this feature was that the boat consumed much less fuel than some competing brands. On the subject of hull design it is important to note that the high shear line always kept my center of gravity inside the boat when tending my downriggers in any sea condition. Also the 18 inch windows in the hardtop provides the necessary visibility in our log strewn waters.
Since I have owned my 24 Monaro I have added several features to it under the advice and able guidance of Dan Parker and his capable crew. The result was always excellent and extremely professional. Having access to the manufacturer to make adjustments required was invaluable and the Monaro crew headed by Dan was always a pleasure to deal with. I wonder if all boat owners can say the same about follow up service over 15 years with their various manufacturers?
As the Lumb family entered 2010 a decision was made to take a different boating direction and therefore the time has come to part with our Monaro. It speaks well of Monaro quality when I observe that the basic condition of our the boat is equal to what it was in 1995. Of course boats don't maintain themselves but unless the manufacturer provides a quality product regular maintenance it to no avail. It is often said that the 2 happiest days for a boater is the day he buys his boat and the day he sells it. But in the case of our Monaro, like saying goodbye to a reliable old friend and companion ,in many respects, the sale day of our Monaro will not be a particularly happy day.
Don Lumb, former Monaro 24 Owner