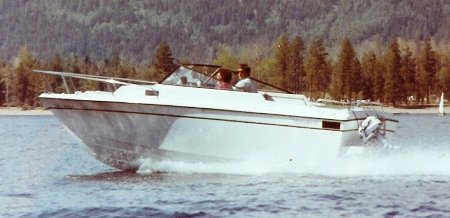 Dan Parker, founder and President of Monaro Marine, felt back in the mid seventies there was a need for a high quality semi-production small cruiser. The market would be small but we knew there were people who were in search of a quality built, good rough water boat, with in some cases a very special list of equipment and layout requirements. So began MONARO.
The original Monaro factory was at home in Parker's garage. The original model was designed as large as possible that would still fit inside that small garage, which turned out to be 21 feet in length. In 1976 the first Monaro 21' was launched. Two years of research, design and mold making made it all worth while that fine spring day at the launch ramp.
In 1985 Monaro began producing a 24' model, which is a stretched version of the Monaro 21'. This model proved to be even more capable in the rough waters off the British Columbia coast. Since putting the first 24' into service the 24' Hard Top version has been the most popular Monaro to date.
From its conception, Monaro 24 owners have taken their boats to many remote and very isolated waterways along the rugged Canadian West Coast. Since 1995, there has been a Monaro 24' operating out of Yellowknife, Northwest Territories in northern Canada, and another 24' commercially run in North Lake Superior waters in eastern Canada.
It appears the combination of great handling, dry level ride, excellent visibility, good use of space and easy trailer-ability are major reasons why this boat is so popular.
1986 saw the first diesel power in our 21', followed in 1989 with diesel power in the 24. With more lighter weight and higher HP diesels available today and the increasing cost of fuel, we are seeing a definite trend to this type of power. With the longer range capabilities at a much lower operational cost we can see this trend continuing.
In 1992, now in larger premises, we launched our completely new Monaro 27'. This was a big step for our company in that it put Monaro into a different type of boating. Below, accommodations were now quite spacious and luxurious compared to our smaller models. Diesel engines are by far the power of choice by our customers. As to the choice of hard top verses soft top, since 1995 they have all been hard top. With the exception of two 27' all of the original Monaro 27 soft tops have been converted to hard top. The Monaro 27 has been designed for our northwest climate, and cold weather in the spring and fall.
The most common comment made at boat shows about this boat is "Incredible visibility". This is very important if operating in waters with an abundance of driftwood, as in BC.
We increased the size of our largest model to 29'8" in 1999. This came about after moving once again in 1995 to a larger premises. Now we have all the features of the 27' plus the additional space created in the aft half of the boat. The 298 has much more space under the hardtop. Plus, there is now a fixed bulkhead with door available, separating saloon from aft deck. For the fisherman there is a special shallow fish cleaning locker in the stern. This boat is focused probably more to the cruising boaters than the fishing people. However, for those who do wish to fish they will cruise in comfort despite the weather conditions. As in the 27', hot water diesel furnaces and serious windshield defoggers are very popular options.
In 2023, we were faced with an unimagineable rate increase on our building rent which would no longer be affordable to make our business viable. It was also a time when it was quite difficult to find skilled workers. We met this as an opportunity to downsize and for Dan to retire. We found a new location in Delta, just 10 minutes away from the other shop. The current facility is too small to build boats but we are able to still service all existing Monaros and other brands of boats. Most of our molds have been retained in hopes that one day we will return to constructing new builds.
Many of our clientele are repeat customers. Some owners have owned as many as four Monaros.
In summary, what we build are boats meant to be used, not moored at the marina gathering bottom growth, or parked in the driveway waiting for calm water. The accounts of trips made by our owners of all models of Monaro would truly amaze some "average normal boaters". We are told by Monaro owners and many in the marine industry that we build the best in its class.
Today Monaro Marine Ltd. is still owned by its founder, Mr. Dan Parker and is now semi-retired. His son, Brad operates the business with a small crew and has been with us full-time since 2006.