An early Monaro owner, Dick Fish, was probably the first to show off the qualities and capabilities of a Monaro. Not long after launching his 21 back in the late 70's, he set off on a trip that would take him all the way to Glacier Bay. He also trailed the boat across the United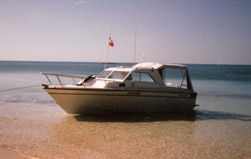 States and launched it in Florida, crossed the fabled Gulf Stream to the Bahamas in massive seas and survived stormy weather the likes of which few get to witness first hand.
A subsequent owner, Dennis Hopkins, was also an adventurous boater. Solo, he took the boat down the Mississippi, almost from its source to its delta. A log he kept about the trip revealed some of the difficulties of travelling down a remote waterway without charts facilities and places to stop. Overnighting became a matter of tying to the most secure fixture on the bank that he could find. In some parts of the Mississippi the most challenging aspect of the trip was finding fuel. This often required long hikes away from the river and hiring a vehicle to deliver fuel to the boat. He also had to contend with the busy, sometimes overwhelming commercial river traffic and peculiar urban regulations.