Great Slave lake is a rugged but beautiful body of water in the Northwest Territories. And while it is rich in splendour it lacks in amenities. Moreover local boaters are frustrated with a short cruising season. This is where Gary McGee lives. And he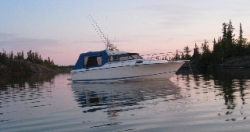 and his family spend all the available summer recreational time exploring the lake.
When he sets out in his boat he has to be totally self-sufficient, with enough food and supplies, and especially enough fuel for a complete trip. He is a member of the lake's coast guard auxiliary, so his boat must be able to perform in sometimes wild and dangerous conditions. When he considered all of his special requirements he found it necessary to look for a very special kind of boat.
One year when he headed for civilization to shop for a boat he stopped by at Monaro Boats in Richmond to talk to Dan Parker, boatbuilder and owner of the yard. Parker has thrived on a well-earned reputation for high quality in design and construction combined with high performance in a line of fine 21, 24 and 27 foot cruisers. Recently he added a 29 footer to the fleet.
Parker, being a devout Volvo enthusiast, offers their gasoline stern drives as standard power in all of his boats. Diesel engines have become very popular and nowadays most buyers choose the diesel option for their boats.
McGee was one of the early customers of Monaro to have a diesel engine installed. He found it increased his boat's economy substantially without losing the performance he wanted.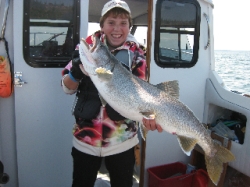 Direct fuel injection in the 4-cylinder turbocharged engine McGee chose provided him with a fuel economy suited for the remote waterways in which he does his boating. His 21 foot hardtop has a range of 600 miles, burning a miserly 3.5 gallons an hour. Stove oil in Yellowknife is inexpensive and this is what McGee uses in the engine.
The boat came also with two 20 gallon fuel tanks in addition to the standard 40 gallon tank. Fuel transfer pumps in the side tanks get the fuel to the main tank, which feeds the engine.
The boat was well equipped with electronics which included a Lowrance GPS with sonar fish finder and chart plotter, which provides boat speed as well. A Raytheon RL 9 radar antenna is in good company on the radar arch with the GPS and Horizon Eclipse VHF antennae. Trim tabs are from Bennett.